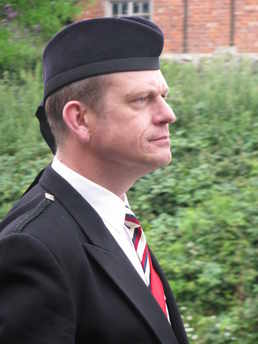 Hello and welcome.
If you've landed on this page, there's every chance you want to know more about our band.
The most important word for the band is "family". We're a family band with family values. We foster an educational environment, where we all continually learn from each other. We positively encourage tolerance, understanding, patience openness.
Pipe Major Robert Orridge was introduced to the bagpipes at the age of eleven. Back then there were just four members, one being a good friend of his father; Les Pallet. Another was George Priest who, on retirement, was Corporal of the Second Battalion Seaforth Highlanders Regiment. George encouraged Robert through the frustrations, teaching perseverance and demonstrating the value of commitment. A legacy in other words.
A lot of years have passed, and, sadly, those members are no longer with the band, but their values remain at the heart of the Seaforth Highlanders. Today, membership has grown and new-comers are our life blood, so whatever your age, we'd love to see you.
Invitation We are always on the lookout for new members; whether you're experienced or a complete novice you're welcome in our band. If you've never played before or need tuition, we'll commit to teaching you, totally free of charge. All we need from you, is your commitment in return to attend practices, and to spend time practising on your own. The only payment we'll ask of you is a very small fixed weekly contribution which goes towards hiring the hall where we practice, and to maintaining the band and its equipment.
You might be wondering what you can expect as a member. Well, it's fun, hard work, satisfying… We'll help you to learn and grow as a player. If you commit to us, then we'll commit to you. We want you to be comfortable, to want to turn up week-after-week, year-after-year, like our original founders did; like I've done; and many of the members you'll meet. Tell us what you want to achieve and we will support you in any way we can.
Where & When? We practice on Thursday evenings 7.30-9.30 at The Verney Institute, 13 Newboundmill Lane, Pleasley, Mansfield, Nottinghamshire, NG19 7PL.
Whether Pipes or Drums, or even both, are your interest, or you simply want to know more contact Kevin Haig on 07411 960811, or use the "contact us" page. We also have an active facebook page where you'll find more information.